In today's complex healthcare environment, your practice or health system will benefit from a quality improvement approach that can adapt to changes that occur over time.  There are many methods and approaches out there…  Is there really a single Quality Improvement solution that can work in every setting, in every department, and for every system?  Our answer is "No!".  While all of the Quality Improvement and change methodologies can be useful when applied properly, there is no solution that fits every situation.  To call your health system a strictly Lean shop or restrict your approach to one process, such as PDSA or IHI's Model for Improvement, is to overlook a critical characteristic of change implementation.  The key to sustainable quality improvement is to skillfully apply the right tool or process at the right time, depending on the situation facing your team or organization.  Here at CHIIS, we recommend a change implementation approach that is flexible enough to adapt to whatever challenge or variation you may face in your health system.
What Makes Agile Implementation (AI) So Successful in Healthcare?
Think of Agile Implementation (AI) less like a process and more like a guide through a dynamic, changing environment.  Because it has adaptability and fluidity built in, AI is a non-linear formula for change management that has proven successful specifically in the dynamic healthcare setting where multiple factors must constantly be balanced.  The approach accounts for the many sources of variation present within a healthcare system.
Let's briefly consider three major aspects that make Agile Implementation unique compared to other well-known improvement methodologies used in healthcare.  As shown in the diagram below, there are key differentiators and similarities between Agile Implementation, PDSA, and Lean.  While each of the methods has their designated purpose (i.e. Lean is especially useful for linear processes, etc.), you can see in the diagram that AI has the biggest circle, demonstrating how it is the most all-encompassing improvement method.  Agile Implementation includes the essential features of both Lean and PDSA, and it also comprises several other key elements beyond what the other methodologies offer.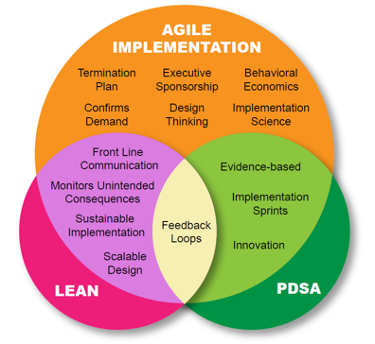 3 Key Distinctions of Agile Implementation
Do you set criteria for terminating a failed solution before implementing a solution?  Having a Termination Plan is a great way to ensure that your team stays motivated to find real, sustainable solutions.  If a team is confident that they will not be wasting their time and effort implementing something that may not prove successful, they are much more likely to stay engaged and be true problem-solvers.  
"An essential part of Step 3 [of AI] is identifying the criteria for determining the implementation a failure and establishing both the method of de-implementation and who will lead it." (Boustani, Azar, & Solid, 2020, p. 82).
Design Thinking & Behavioral Economics
In the book Agile Implementation, it is suggested that "our ability to improve the quality of care becomes a function of our ability to influence decisions and actions within the unique circumstances of a healthcare encounter." (Boustani, Azar, & Solid, 2020, p. 45)
The human element of making improvements in any setting is often overlooked and is not well-understood.  Agile Implementation will guide you through making change in an organization based on the framework of Behavioral Economics, in order to account for the variation in human decision-making.  The reflective, adaptive (or "agile") process of AI proactively addresses the positive and negative emergent behaviors that come from implementing change. 
Designed by Clinicians for the Healthcare Setting
Agile Implementation was designed specifically for use in healthcare.  It was created by physicians wanting to see the multitude of valuable, evidence-based practices make their way from the bookshelf to everyday practice.  This is done through the application of Implementation Science.  With the mission of improving care delivery and health outcomes, lowering costs, and enhancing the overall clinical experience, doctors Malaz Boustani and José Azar used their years of experience seeing patients to map out the most effective way to improve quality.  Using Agile Implementation is the best way to ensure that you engage the right teams, cultivate a learning culture, and adapt successful solutions that fit your ever-changing healthcare environment.
Are you and your staff equipped to implement sustained quality improvement in your complex health system?  Are you ready to become a healthcare AI change agent?  We invite you to visit our website to learn more about the AI Training that we offer at the IU School of Medicine's Center for Health Innovation and Implementation Science!  Here you will find the tools, resources, and information you need to equip you for your implementation journey as you cultivate a culture that seeks continuous improvement and learning!
References
Boustani, M., Azar, J., & Solid, C. A. (2020). Agile Implementation. New York, NY: Morgan James Publishing.